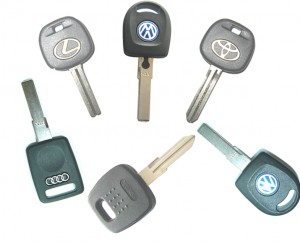 If you're driving a new car model, chances are you're using a transponder key. It's easy to confuse a transponder key or chip key with a smart key fob because they look alike. The only difference lies in the chip embedded inside the key itself. When the key is inserted into the ignition, the chip inside sends a signal to the car's ECU and if they match you will be able to start the car. This gives car owners a deeper sense of security knowing that their cars are protected from car thieves. The downside to modern technology is that because this new security system is more sophisticated than most, replacing a lost transponder key can be very difficult, especially if the chips are embedded inside a sidewinder key.
It may seem like a daunting task, but our automotive locksmiths are well trained and well equipped to handle issues involving transponder keys. To understand how our automotive locksmiths can help you, you must first understand how a transponder key works. A car using a chip key has an ECU that sends a signal to the chip embedded in the key. The chip also has its own signal that should match that of the ECU. If they match, the car will start. Aside from using the wrong key, the only way that a chip key won't work is if the chip inside the key is broken or out of place. In this case, a skilled automotive locksmith can help you by reprogramming a blank
chip key to match your ECU. The process of reprogramming a chip key is quite simple; however, not all automotive locksmiths have the equipment or the training to do so.
If you need help with your transponder keys, our automotive locksmiths are available to serve residents of Long Beach any time of the day or night. It doesn't matter what brand or model you drive. We can handle old or new transponder key models used in any car brand and model. Our automotive locksmiths are well trained ad have extensive experience in this field, so you can be sure that we provide high-quality and efficient service. Call us anytime for our emergency transponder keys/chip keys service and we'll send an automotive locksmith to your area as soon as possible.