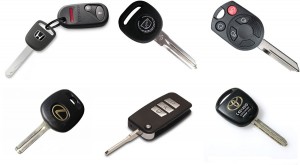 Laser keys, also known as sidewinder keys, are quite hard to duplicate. If you're concerned about your car's security, laser keys are the way to go. Unfortunately, losing or breaking your sidewinder keys can be a big problem because not all automotive locksmith services have the equipment or the capability to handle replacing this type of keys.
The term sidewinder comes from the way a laser key looks. Unlike normal keys where the edges are ridged, a laser key has smooth edges and the grooves are embossed on the surface of the key. Those who have been using laser keys would know that this type of key is sturdier and more durable than your average car key, but essentially more difficult to make copies of. In the past, if you lost your sidewinder key, you would need to provide your dealership with proof of ownership in order to get the key code needed to duplicate the key. If you've managed to lose your original key, the key code can also be used to reprogram a new one. After you've managed to get the code, you need to wait for the dealership to release your new car keys. Some automotive locksmiths have caught up with the times and have trained to use laser key cutters, making it more convenient for customers to get a new laser key in case of a car lockout.
Our locksmiths have the proper training and equipment to help you with your laser key needs. You just need to provide us with your car's VIN number and we can get the necessary key code for our locksmith to use in cutting you a new key.
Being one of the first automotive locksmith services to offer laser key duplication is something we take a lot of pride in. We believe in giving our customers innovative solutions to all their car key duplication and replacement problems by providing them with services that go with the times. In case of a lost or damaged sidewinder key, call us for our emergency laser key replacement or duplication service and we will dispatch a duly licensed automotive locksmith to your area immediately.