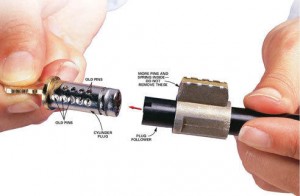 Replacing your locks every time you lose your keys can take its toll on your doors and your wallet. You would need to buy a new set of locks and go through all the trouble of installing them. If there comes a time when you need to replace your existing locks, consider calling a residential locksmith to have your locks rekeyed instead.
Not all break-ins are forced. Some burglars and intruders are able to gain access to homes using keys that are already in their possession. The best way to make sure your home is safe is to check if all your keys are accounted for and that there are no other copies of your keys out there. If you've just bought a house or moving into a new apartment, the first thing you need to do is to change all the locks in your new home. This is also advisable if you've lost your keys even if you have spare keys hidden somewhere in your home. Of course, changing your locks doesn't necessarily mean replacing all of them with new ones. You can always call us and have a residential locksmith rekey all your locks. This way, you can be sure that no one can gain access into your home using an old key.
The way lock rekeying works is simple. Our duly licensed locksmiths will remove all your key-opened locks like door knobs, mortise locks, and deadbolts for rekeying. Using a rekey kit from the same lock manufacturer, our locksmith will change the combination within the locks and cut out a new set of keys that would fit the new lock combinations. This way, your old keys won't work when inserted into your newly rekeyed locks. The locks will then be reinstalled and it will seem like you've replaced all your locks without having to buy new ones.
We value our customers' safety and peace of mind. This is why residents of Long Beach can call us any time for emergency rekeying or to schedule an appointment with one of our well trained and experienced locksmiths. To get a quotation, call us today.